Monumental Shadows – Rethinking Colonial Heritage
Berlin, August – October 2021
Project by Various & Gould in collaboration with Colonial Neighbours (SAVVY Contemporary).
"Monumental Shadows" is a participatory project in public space that takes the memory of colonial figures off the pedestal and shifts the shadows of history and the present.
Even as more and more European countries begin to come to terms with their colonial history, far-reaching shadows dominate their culture of remembrance. Formerly colonizing and colonized countries are linked by a complex, violent past that reverberates to the present day. The art project "Monumental Shadows" explores memory culture through artworks and monuments that continue to inscribe colonial history in public space. In a combination of artistic collaboration, substantive debate and public discussion, the connection between colonialism and contemporary racism is made visible.
For "Monumental Shadows" a series of seven artistic paper impressions of monuments in Europe is planned. Against the historical background of the Berlin "Congo Conference" (1884/85), these are monuments that have a connection to European colonialism in Africa and are located today in countries that were significantly involved in the conference and continue to benefit from it to the present day. The selected monuments and the historical figures associated with them are still positively portrayed or even glorified in the historiography of their respective countries (and beyond). In the process, the colonial exploitation and imperialist atrocities for which they are responsible are concealed, downplayed, or glossed over. On the one hand, their part in colonialism lies in the shadows for large sections of society, while on the other hand, their actions still cast a shadow over the lives of many people.
The aim of the project is to demonumentalize these monuments by symbolically lifting them off their pedestals and charging them with new meanings. In the visual design of the cover, we address the respective monument and its colonial history. Through the lightness and malleability of the paper, their transience becomes visible.
Subsequently, the resulting impressions are performatively deformed in Ver-Formances and thus even become touchable. It becomes comprehensible: History is not static, and we are all part of it. Our concern is to break the power of the white narrative on colonialism by proposing a change of perspective. In doing so, it is important to stop reproducing the Eurocentric view and narrative without comment. It is long overdue to bring more light and attention to the historiographies and narratives of People of Color, which have often been silenced and ignored until now. Only when they are part of a shared culture of memory can we evolve into a society critical of colonialism and racism.
First stop: Berlin
The project will be carried out in Berlin from August to the end of October 2021 and is divided into four parts, so-called "Shadows." In various formats, the participating artists and speakers will address the traces and effects of colonialism up to the present day.
Shadow#1 – Urban Interventions
Paper molding of the Bismarck statue
02–21.08.2021
Using a technique related to papier-mâché, artist duo Various & Gould and the Colonial Neighbours team have temporarily molded the Bismarck monument in Berlin (designed by Reinhold Begas in 1901) with multiple layers of paper. Parallel to the work process, the exchange with passers-by was an essential part of the project. Countless conversations were held with interested, enthusiastic or outraged visitors. In addition, there was extensive information material in German, English and in "Leichte Sprache".
---
Bismarck knocked off his pedestal
21.08.2021
On the last day of work at the statue, Various & Gould have opened the paper form and took it down from the pedestal under the eyes of dozens of visitors.
---
Das Zentrum von Gestern, die Splitter von Heute
21.08.2021
At the same time, an artistic intervention by Daniela Medina Poch and Juan Pablo García Sossa took place. The two artists scratched a large lettering in the path to the monument: "Das Zentrum von Gestern, die Splitter von Heute".
Shadow#2 – Urban Performance
"Gospel of Wealth"
Sunday, 12.09.2021
Performance by Thomias Radin with Natisa Exocée Kasongo, Jumoke Adeyanju and Delawhere. The fragments of the paper-Bismarck from Shadow#1 were part of this performance on the Open Monument Day. The location of the event is another public square that carries a history of violence in its name: Nettelbeckplatz, which commemorates the colonial propagandist and slave trader Joachim Nettelbeck.
---
Gospel of Wealth
Viewing life as a gold rush will result in worshiping the golden calf and the golden rule becomes that those who have the gold, rule!
Spirituality drops out!
Morality drops out!
Collateral damage. The myth of the one over the existence of many.
Many of you, many of us, many of them, many of me are echoing inside the empty shell of the one.
Bigidi !
Move forward!
Bigidi bigidi, head up fast forward!
---
"Gospel of Wealth" questions the impact of the glorification of a western colonial figure and its heritage within the individual and collective consciousness, from an Afro-diasporic perspective. From Nigeria through Congo to the Caribbean.
In the performance, we encounter several mythologies, embodied by sonic and danced intervention. We aim to open a new conversation acknowledging and valuing collectivity over the myth of a political figure and material wealth.
Concept : Thomias Radin (Guadeloupe/FR)
Performers: Natisa Exocée Kasongo (Congo/FR), Jumoke Adeyanju (Nigeria/DE), Thomias Radin
Sound artist: Delawhere (FR)
Shadow#3 – Workshops
September–October 2021
Workshops with schools
In a workshop with pupils, the topics of remembering, history, colonialism and racism are worked out artistically and creatively.
Shadow#4 – Panel
Friday, 29.10.2021, 19:00
"Ein Platz an der Sonne" & its long shadows | closing event
With Josephine Apraku and more tbc.
SAVVY Contemporary, Reinickendorfer Str. 17, 13347 Berlin
To conclude the Berlin chapter, we invite you to an exchange with performances, lectures and conversations about interdisciplinary experiences and strategies in dealing with colonial heritage.
Links
Project website Monumental Shadows
Colonial Neighbours / SAVVY Contemporary
---
Colonial Neighbours
Colonial Neighbours is a long-term project by SAVVY Contemporary in Berlin. International artists, historians, cultural scholars, curators and other activists are invited to engage with German colonial history and its aftermath in the present in this participatory archive and research project.
---
Articles about "Monumental Shadows" (selection)
Radio Arty, FluxFM, 09.09.2021, 20–21 Uhr (German)
---
Documentation:
"Monumental Shadows" is documented by Raisa M. Galofre Cortés (photos) and Frederic Leitzke / editude pictures (video). Another photo is by Pierre Adenis.
---
Informationen
The project is funded by Senatsverwaltung für Kultur und Europa des Landes Berlin and Berliner Projektfonds Urbane Praxis, with support of Zapf Umzüge.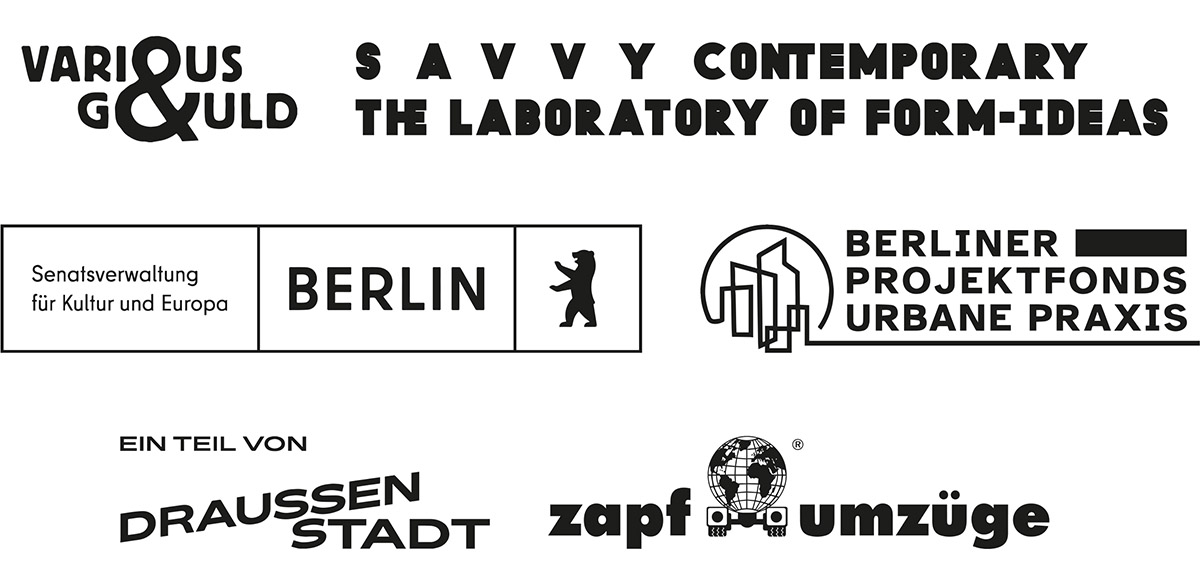 Bismarck and the German colonies
Bismarck is known to many people today primarily as the first German Chancellor and because of his social laws, which were progressive for the time. Many people may also still be familiar with his military appearance with pimple cap. Less well known, and thus overshadowed, is his significance for the history of German and European colonialism. As the founder of the German colonial empire, the traces of his actions still have an impact today.
Bismarck was not a colonial enthusiast for a long time. At first, he did not want any German colonies, as for him the costs and benefits were out of proportion. Nevertheless, he changed his mind. He became host and co-initiator of the "Congo Conference" in Berlin (November 15, 1884 – February 26, 1885), where the participating – mainly European states – legitimized and regulated the division and exploitation of the African continent among themselves in a common cause. And this under exclusion of any African representatives.
In 1884/85, the German Empire declared Togo, Cameroon, German Southwest Africa, German East Africa and German New Guinea as its own protectorates. Bismarck can be described as the midwife of the German Colonial Empire. The Berlin meeting had immediate consequences for the African populations. For example, the establishment of an administration in the colonized areas was made a condition for documenting colonial claims. As a result, the colonial apparatus, which in many areas was limited to the coastal regions, expanded into the interior of the country, placing many Africans directly under colonial authority and administration for the first time through taxes, forced labor and other measures.
The German colonial period, still dismissed by many as "harmless" because of its supposed brevity, was marked by massive day-to-day violence and atrocious crimes, such as the genocide of the Herero & Nama (1904-08) in what is now Namibia and the bloody suppression of the Maji-Maji uprising against colonial oppression (1905-07) in what is now Tanzania, both of which occurred just a few years after Bismarck's resignation.
The colonial boundaries sanctioned in Berlin became the basis for postcolonial state formations and largely remain valid today. The ruthlessness toward African interests and African contexts of rule created and entrenched injustices and conflicts that continue to have an impact into the present "independent" Africa.
A present-day remembrance of Bismarck must reflect on these far-reaching effects of his governance and bring them out of the shadows into the light.